Build a better agreement experience with the DocuSign APIs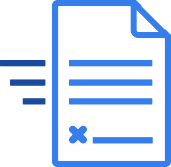 Automate eSignature requests
Generate documents and send for eSignature
Embed eSigning into your app
Enable users to sign documents within your app, not via email
Generate forms & field data
Choose where signers add signatures, initials, and other fields
Who uses DocuSign – and why they love it.
"Using the DocuSign eSignature API through the C# SDK enabled us to quickly implement a complex solution allowing our customer to transform their existing paper based contracting process to a completely digital experience from the point of sale through to securitization of their digital assets."
"We selected DocuSign because of its superior API platform, network, and technical support. Contracts and agreements that used to take weeks to be returned on paper now take as few as two minutes digitally with DocuSign, saving us tremendous on processing and paper costs."
"Anybody that's interested in NYSE data, those clients are the ones we are trying to reach and we are doing that now with DocuSign. With DocuSign the turn-around time is so much quicker. DocuSign has really helped the NYSE interact with our clients in a much more efficient and effective way."
Your account is almost ready
Activate your account now:
Login To
Look for an email from DocuSign and click the link in the email to activate your account.